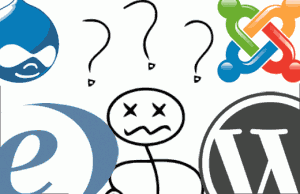 Content management systems (
CMS
) have been on my mind for a while now. Several months to be exact. A content management system for the web is a system for publishers, producers of content, to easily distribute content without needing a PhD in computer science. Allowing the producer of the content to focus on the content not the technology. Once a CMS is setup a publisher just logs in to a private admin area to add content. Adding content in most cases is as easy as updating your status on
Facebook
.
Content Management On The Brain
The reason I have been thinking about and playing around with different content management systems is I have had this good guy bad guy thing going on. As a programmer I have always just felt managing content is for non-programmers. If I need to create a new web page I will just open up a text editor and build that page with my programing skills. Who needs that extra layer of fluff? I have used almost every CMS on the market in the past for client work and personal blogs. I always felt they were great if the primary user was not a technical person. Over the last few months I have had this unexplainable urge to prove to myself that I need a content management. I have been on a quest to find a CMS that speaks to me. Diving deep into each CMS offering in search of a CMS that delivers the flexibility I need as a "programing power house" while at the same time giving me features and interfaces to manage my content in a more effective way.
I spent a great deal of time with
Wordpress
,
PyrosCMS
,
ExpressionEngine
,
Drupal
,
Joomla
, and
FuelCMS
. Almost all these content management systems provided really nice ways to build pages, and a blog (which I am sure is a majority of the CMS market). They all had their pros and cons for customizing into a platform to run my web empire. On several occasions I concluded I was just going to write my own CMS (like every web developer does) but then realized there is a lot to it, hat tip to all you CMS developers out there. Then I went into a phase of "I will just build whatever I need on top of which ever CMS I choose, and maybe contribute the code back to the community". This was a great idea but felt like there was too much custom hacking going on for the commercial products I manage.
Finally, I fully committed to Expression Engine (EE), the only commercial, non-free, CMS of the bunch. I have been playing with EE for years but always thought it was not suited for my particular needs. I was pretty wrong about that. EE is the most flexible and robust CMS I have ever used. Its channeling system, templating system, and asset manager really allows me to build web applications the way I want and not structured around some restricted way of doing things the CMS developer chose. My team and I at
Skyclerk
recently fully converted our public marketing site to EE. We are very proud of what we completed and are very excited about the flexibility EE will offer for us to grow in the future.
Read the rest of this entry